Flexible dosing from the comfort of home1
2choices
1 injection. No titration.

Every 2 weeks
Repatha® SureClick®
Single-dose prefilled autoinjector

140 mg/dL subcutaneous injection
Hidden 27-gauge needle
Delivers the 140 mg/dL dose subcutaneously in up to 15 seconds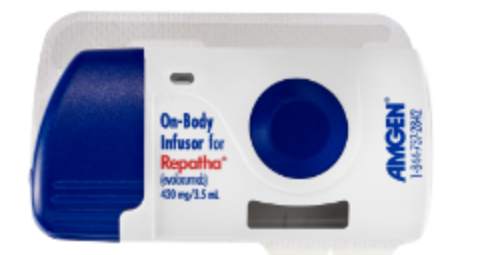 Once a month
Repatha® Pushtronex® System
Single-dose on-body infusor with prefilled cartridge

420 mg/3.5 mL subcutaneous injection
Hidden 29-gauge needle
Steady delivery of the 420 mg/3.5 mL dose subcutaneously in up to 5 minutes
of patients successfully administer at home with either device2,*,†
*Patients who reported two full-dose administrations of Repatha® at weeks 4 and 8. Patients received training from healthcare professionals on how to self-administer.2
†Patients used the Pushtronex® system or three autoinjectors for the once-monthly regimen.2
References: 1. Repatha® (evolocumab) prescribing information, Amgen. 2. Dent R, Joshi R, Djedjos CS, et al. Evolocumab lowers LDL-C safely and effectively when self-administered in the at-home setting. SpringerPlus. 2016;5:300.